Car service is a maintenance check-up which has to be carried out as required by the vehicle based on set time intervals or according to a certain number of kilometers it has on its odometer. Cars perform efficiently and will run smoothly when serviced on time. It is in your best interest to bring your car for service and repairs if required to avoid sudden breakdowns and the problems that follow. caroman offers General Car Service, Car Wheel Repair, Car Denting, Car Painting, Car Wash Services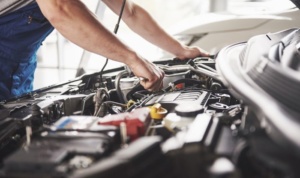 At Car-O-Man we have experienced technicians who will assess your car and gives the car the treatment it requires; the service comprises replacement of old parts and oils, checking whether the key components are functioning properly. The complete process is a hassle-free experience and your car will be serviced properly without you having to worry anymore.
We offer few other car services and maintenance in and around Hyderabad. you can check our other car services here.
Caroman offers Free Pickup and Drop Service in and Around Hyderabad. We have exciting offer on Car Denting & Painting , Car Modification and Car Maintenance Service. For any queries you can contact us at any time, our expert team will be always available to assist you.
Repair & Service
Regular service starts @ 999/-
Labour charge
42 Points Checkup
Washing clean
Vacuum Cleaning
Oil & Oil filter chaining (extra cost for oil & oil filter)
Clutch overhauling / Clutch replacement
Starts @ 2,499/-  It includes removal & refitting of gear box, clutch plates, pressure plate, release bearing.
Complete suspension replacement starts @ 2,499/-
Includes – replacement of strut assemblies, replacement of lower arms both the sides, replacement of steering ball joints.
Replacement of balance rod links.
Replacement of balance rod bush kit.
Wheel alignment at extra cost.
Windshield glass replacement starts @ 749/- ( varies depending on vehicles )
Break pads replacement starts @ 400/-
Extra cost for spare parts
Price Table
| Service | Price |
| --- | --- |
| Front shoe replacement | 1,499/- |
| Brake disc replacement | 0 |
| Back brake cylinder replacement | 0 |
| Brake fluid replacement | 0 |
Request an
Appointment
Let us know how we can help You. Request an Online Appointment using the Form below.
[contact-form-7 id="927″ title="Make an Appointment"]