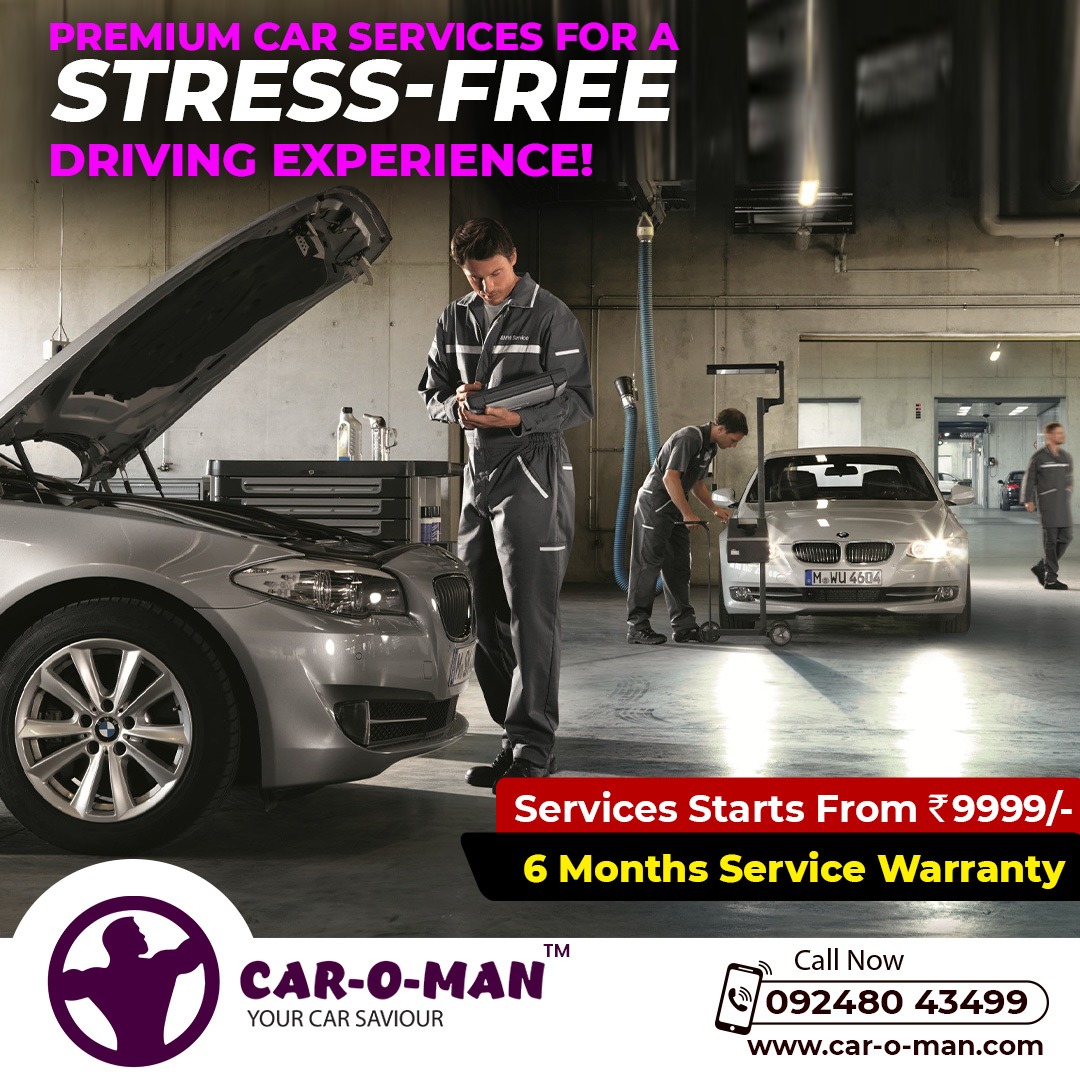 BMW Car Service at CAR-O-MAN
The model line-up includes the 3 Series, 5 Series, 7 Series, X1, X3, X4, X5, X7, 3 Series GT, 6 Series GT. Models from the M and Z range including the M2 Competition, M4 Coupe, M5 Competition, M760 Li and the Z4 are CBU units imported into the country. BMW has launched the all-new X6, BMW i8 Roadster and the 8 Series in India.
The most popular BMW cars are X1 , X5 and 3 Series . The expensive BMW car is 7 Series which is priced at Rs. 2.46 Crore . The upcoming BMW cars include i8 , M3 and X2 . Select a BMW car to know the latest offers for your car service & maintainance.
WHAT SERVICES CAN I GET?
BMW Oil and filters.
Our trained BMW technician will inspect your vehicle's fluid levels and change the oil of your vehicle, dependent on what is required. The team will also replace the oil filter, regardless of its condition and like all value services, return your BMW vacuumed and washed so it looks spick and span for your return.
BMW Brake discs and pads.
We offer different options for you to choose from: brake pads and brake pad wear sensor replacement (front or rear), and brake disc replacement (front or rear). All parts exchanged during the service are replaced by BMW Genuine Parts, which come with a *year warranty.
Inspections.
Inspection service includes an oil and oil filter change, renewal of your air conditioning and climate control system's micro filters, as well as an inspection of the electric and fluid systems. The extended inspection option also includes spark plug or fuel filter changes and air filter replacement. All work carried out during the inspection is logged and noted on your BMW service history.
When should I service my BMW?
Regularly servicing your BMW car is one of the easiest ways to keep it reliable, safe. To keep your BMW car operating like the Ultimate Driving Machine it is, regular maintenance is essential. Fortunately, with newer BMW models, it's easy to know when service is required thanks to the BMW Condition Based Service (CBS) system.
When Do I Service My BMW?
Most BMW service intervals range from every 5,000 to 7,500 miles or at least once a year. Regularly servicing your BMW is one of the most important things you can do for your vehicle's health.
BMW MAINTENANCE
BMW INSPECTION.
A BMW inspection is a necessary prerequisite for the continued performance, safety and value of your BMW.
The BMW inspection covers amongst others:
Microfilter change
Engine oil change
Brake fluid change
Original BMW Engine Oils meet the top-quality standards required by BMW engines and perfectly exploit their potential regarding performance, efficiency and longevity. Enhance maintenance work on your BMW with Original BMW Engine Oil and with the longtime expertise of Car-O-Man.
BMW Air Conditioning
If you find that you are unable to achieve a comfortable temperature or de-fog your windscreen on a cold morning, your car may need an air conditioning recharge. A BMW Recharge Service is the perfect fix and includes full system checks for both pressure and leaks, as well as a complete drain and refilling of refrigerant and lubricants. And as to be expected, the BMW Air Conditioning Recharge Service comes with a level of expertise only available directly with BMW.
BMW Air Conditioning Refresh.
Is your BMW starting to lose that new car smell? It may be time for a refresh service. We want your drive to be as comfortable as possible and we have the expertise to make that happen; we recommend you take your BMW to your local BMW Centre so a highly trained BMW technician can clean and disinfect the evaporator and air duct systems, as well as treat the air vents and the interior to keep that new car smell for a little longer.
BMW VEHICLE CHECKS.
Professional, quick and transparent.
The BMW vehicle check provides the only way of guaranteeing that your BMW really is in top condition.
BMW vehicle checks are available for a wide variety of comprehensive checks, ensuring that every aspect of your car is prepared for any occasion, for instance:
Holiday check
Summer check
Pre-monsoon check
BMW seasonal check
BMW light check
BMW AC check,
BMW safety check
Our BMW Service specialists will be happy to advise you on the BMW vehicle check most suitable for your vehicle.
BMW ENGINE OIL SERVICE.
Keeps your BMW running smoothly. BMW engine oil service is more than just an oil change.
During a BMW oil service, BMW Service experts also check a range of additional components and parts such as brakes and tyres.
With a BMW motor oil service you get an extensive engine oil service that goes far beyond a simple oil change, and which guarantees your motor a longer and better performing life.
BMW oil service includes these additional services:
Oil filter is removed and replaced with new filter
Engine oil is removed and replaced with new oil
Replacement of ignition plugs at every 2nd BMW oil change
Replacement of air & fuel filters (diesel only) at every 3rd BMW oil change
A detailed description of the work performed can be obtained from your BMW Service Centre.
Original BMW Engine Oils meet the top-quality standards required by BMW engines and perfectly exploit their potential regarding performance, efficiency and longevity. Enhance maintenance work on your BMW with Original BMW Engine Oil and with the longtime expertise of our service specialists.
BMW AC CHECK.
Provides a breath of fresh air.
The BMW AC check is our tip for the summer.
A BMW air conditioning check ensures that the climate inside your car is pleasant and healthy by professionally cleaning and disinfecting the cooling system. BMW Service specialists examine your BMW's air conditioning system to make sure everything functions perfectly, also replacing coolant when necessary.
BMW AC maintenance helps you keep a cool head on those hot summer days.
BMW air conditioning service includes:
– Performance check of the cooling system
– Re-filling the coolant/cooling fluid
– Cleaning and disinfecting the cooling system
BMW SAFETY CHECK.
Safety you can rely on.
During a BMW safety check our BMW Service specialists thoroughly inspect all safety-relevant components in your BMW using a 12-point checklist – from the braking system and lighting to steering and tyres.
We guarantee BMW vehicle safety. That means you can concentrate on driving your BMW with the knowledge that you are in good hands as you drive.
The BMW safety check is also the perfect way to prepare for a mandatory road-worthiness test (MOT) or a valuation if you are planning on replacing your car.
A BMW car safety check thoroughly tests:
– Brakes
– Windscreen wiper blades
– Antifreeze & windscreen washer fluid levels
– Engine oil
– Tyre pressure and profile
– Battery
– Lights
– Cooling water level