Taking your car for regular diagnostic tests is as important as your regular visits to the GP. Diagnostic tests on your car help to detect the problems associated with it, avoiding expensive repairs which arise only after a breakdown. There is a misconception among car owners that diagnostic tests are required only when the check engine light comes on, but car diagnostic test can determine if your vehicle has issues with its engine, exhaust, transmission, ignition coils and can reveal problems within a car's engine, transmission, exhaust system, brakes, and other major components.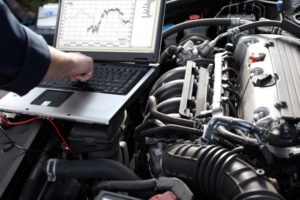 But what is a car diagnostic test and what areas of the car can be tested?
A car diagnostic test helps finding the problems which are present within a car's engine, transmission, brakes, and other important parts of the car. The test precisely tells which component of the car is causing performance issues. It helps in determining the exact problem that resulted in check engine notification. By conducting a diagnostic test our experienced personnel will rectify the problem and will hand over the car back to you with no problems unsolved.
Car diagnosis : Complete car checkup starts  @ 999/-
42 Points check up
Road test
Engine condition check
Clutch condition check
Suspension condition checking
Car body check up
Car scanning starts @ 499/- (change varies according to cars)
car scanning image – car visiting
( car will be scanned through a digital car scanning device.
Advantages of a car diagnostic test:
Detecting the problems using computerized car components which consumes less time.
Costs less if done regularly.
It gives the technicians a complete picture about the required repairs.
Price Table
| Service | Price |
| --- | --- |
| Complete Car Check Up | 999/- |
| Battery Check Up | 0 |
| Oil Change | 0 |
| Ac Filters | 0 |
Request an
Appointment
Let us know how we can help You. Request an Online Appointment using the Form below.