A chemical polymer solution that can be applied to the exterior of a car to protect it against external paint damage is known as a ceramic coating. It's usually applied by hand and mixes in with your car's paint, adding an extra layer of protection.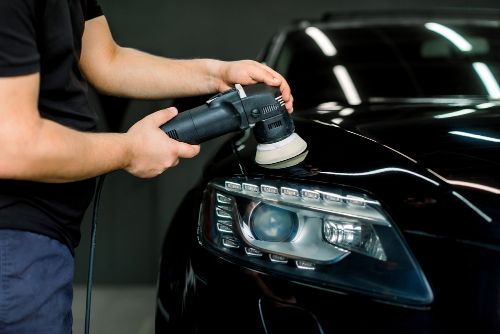 Ceramic coating  is more than just an upscale version of wax. It produces a highly hydrophobic protective coating that helps keep water off your car's surface. It also acts as a shield against damaging UV rays from the sun, oxidation, bird droppings, small scratches, dirt, and chemical contaminants and other pollutants that may stick to your car's clear exterior paint surface.
There are various sorts of ceramic coatings currently available, but if you're searching for a professional-grade product, it's most likely being marketed as a nano-ceramic coating.
Nano-coatings are highly concentrated formulations that use nanotechnology to repair tiny fractures or flaws, resulting in a flat and durable protective covering.
Ceramic coating also has no negative effects and will keep your automobile paint looking new for a longer length of time.
Nano ceramic coatings also have the advantage of being scratch-resistant, as it forms a strong shell on the surface of your car, the likelihood of light scratches is reduced.
In conclusion, the ceramic coating forms a barrier on your car, minimising the likelihood of damage from the environment or even unintentional scratches. As a result, your car's finish will last longer and require less care. The exceptionally durable shell on the car's surface, allowing you to clean it without fear of scratching it. What's more, it gives your car's exterior a lovely sheen!
Some important things to consider while getting a ceramic coating for your automobile include things like the degree of damage on the exterior of the car surface, proper steps of applications and proper steps to cure the coating. Although you can simply follow the manufacturer's directions to apply ceramic coating wax from your driveway or garage you should get professional help. Because ceramic coating creates a barrier on your car's surface, you'll need a strong base to work with. If flaws beneath the covering aren't fixed thoroughly, they'll show through.
We, at CAR-O-MAN, have the best professionals trained in applying the perfect ceramic coating to your car.
Car-O-Man's Ceramic Coating is a tried-and-true way to keep your car's gloss and shine. We take care of your car's exteriors completely, preserving the original paint finish while giving it a whole new appearance.
Best Car Ceramic Coating Service in Hyderabad 
Want to keep your car in showroom condition? Go for this Ceramic car coating. It keeps the shine and protects your car from unfavourable  conditions like heat, dust, pollution, and rain. Ceramic Coating is a liquid based coating applied on the top of the clear coat of the paintwork on a vehicle. 
Benefits of Ceramic Coating Services
Car ceramic coating

is semi-permanent coating lasting for around 2-3 years

It is generally much harder than the existing clear coat of the paint with the hardness value upto 9H, resulting in scratch resistance and highly glossy surface

It acts as the extra protection layer

Gives a new look and showroom condition to your car

Last longer than other paint protection

It repels the dirt and mud 

Acts as U ray protection 

Protects from chemical stains
It is very easy to find the coating service everywhere but it is still difficult to find real professionals in Hyderabad. CAR O MAN provides a best in class service of car ceramic coating in hyderabad which is the next generation of vehicle surface protection. Our moto is to bring the top quality  finishing with  professional experts  and best ceramic coating in Hyderabad to enjoy the new car feeling for every car lover. 
We completely assure you that CAR O MAN ceramic coating services will last longer than regular paint and doesn't interfere with the car's original colour. The car ceramic coating by CAR O MAN includes complete paint correction followed by 3 layers of 9H Hardness & 1 Micron Thickness 
We offer a wide variety of car services from basic car service to car insurance repairs. CAR O MAN is also providing doorstep pickup and drop service right from your home, anywhere in Hyderabad. We believe in perfection, and this is clearly visible in our services. We value both your car and your hard earned money. With our services we are giving a new definition to ceramic car coating service. 
Reasons for why you choose the best ceramic coating at CAR O MAN? 
We stand on our commitment. 

We use world class products in the

best ceramic coating for cars

.

We are having a certified trained professional staff. They always go an extra mile to provide the

best ceramic coating in Hyderabad

. 

We use the top-notch equipment to get the best results in ceramic coating. 

CAR O MAN provides loyal service at reasonable prices and our ceramic coating service starts from 18000/-
We are here with a dedicated team giving you the best ceramic protection service. If you are looking for the best ceramic coating for cars? We are one of the best car service centres and protect your amazing car with our amazing service. 
Premium services, great customer service, and friendly employees, that's what you can expect when you visit any car repair station. Searching for ceramic coating near me? and CAR O MAN at top list in terms of premium services, luxury services, and great customer services. It is a one-stop solution for ceramic coating in Hyderabad. We understand how our customers are connected with their cars, that's why we place a greater emphasis on attaining our results with extreme care and consciousness, and that too keeping the originality intact through harmless nano-technology.
Ceramic coating from CAR O MAN protects your vehicle's paint and makes it shine like a mirror. We are also providing car teflon coating and car denting and painting services. If you are looking for any type of car service? Visit CAR O MAN now!