Best Car Battery Repair in LB Nagar
If the engine is the heart of a car, the battery is the blood that keeps it working. The battery is one of the car's most important parts and is never to be neglected. Regular Battery check-ups and maintenance can save you from trouble later.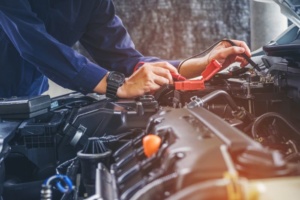 Car-o-man executives have Specially trained for all battery-related problems of any car and any make. We have a good history of clearing battery problems for our clients. Our Car Diagnosis  experts can diagnose your vehicle's condition right away
We offer few other car services and maintenance in and around Hyderabad. you can check our other car services here.
Like many other parts of a vehicle, your car battery needs special care and attention in order to function as it should.
There's nothing worse than losing power mid-journey we recommend you replace the car battery after four years of service in order to see its true potential. Also, you should check the acid level of your battery around every six months.
If you notice that electrolyte levels are low Add distilled water carefully. If you leave your car too long without driving it, your battery will drain down. Caroman recommends you drive your vehicle at least every three days.
Caroman offers Free Pickup and Drop Service in and around Hyderabad. We have exciting offers on Car Denting & Painting, Car Modification, and Car Maintenance Service. For any queries you can contact us at any time, our expert team will be always available to assist you.
Price Table
| Service | Price |
| --- | --- |
| Front shoe replacement | $70 |
| Brake disc replacement | $45 |
| Back brake cylinder replacement | $84 |
| Brake fluid replacement | $20 |
Request an
Appointment
Let us know how we can help You. Request an Online Appointment using the Form below.
[contact-form-7 id="927″ title="Make an Appointment"]